"Skip went above and beyond. We made random stops, we turned around when he saw a local vendor he knew I'd want to check out. It was incredible. Good food, good snacks, good juices, good frozen snacks. Thank you Skip for such a great time. We were blow away with your knowledge, ability to answer all of our questions, the laughs, the random conversations."

-Christin Schulze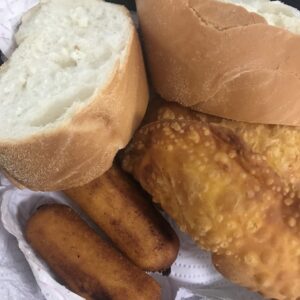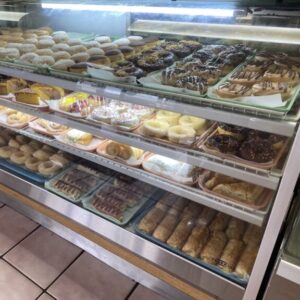 Highlights
Lunch, and desert included
Authentic Puerto Rican dishes
Can accommodate most dietary restrictions
Local coffee, lunch, and rum
Foodie Tour
Let us lead you on an exciting foodie adventure that will take you on a journey through the flavors of Puerto Rico. Our tour starts with a visit to a small coffee farm, where you will learn about the history of coffee in Puerto Rico and witness the process of growing and harvesting the beans. Savor a freshly brewed cup of coffee and awaken your senses with its rich aroma and bold taste.
Next, we'll head to a local eatery to enjoy one of Puerto Rico's most beloved dishes – lechón asado with all the best sides. Sink your teeth into succulent roasted pork that has been slow-cooked over an open fire, seasoned to perfection with local herbs and spices. Savor the flavors of traditional sides like arroz con gandules, tostones, and yuca, all made with fresh and locally sourced ingredients.
After satisfying your taste buds with a delicious lunch, we have two different options to finish your tour.
We can continue our tour to a local rum distillery. Here, you will learn about the history of rum production in Puerto Rico and witness the process of creating this popular spirit. Sample a variety of rums and discover the unique flavors and characteristics that make each one special.
Our second option to finish the tour is with the ultimate dessert showcase, with both an ice cream and pastries stop. Visit a local ice cream shop to enjoy unique seasonal flavors like taro, sweet corn, and even stew or local fruits like acerola or guanabana. Next we'll visit a panaderia for fresh baked pastries and dulces including mallorcas, quesitos, and trembleque. Even if think you've reached your limits this is a perfect place grab a little something to snack on later.
Throughout the tour, your guide will share insights about Puerto Rican cuisine, it's history, and cultural significance. Immerse yourself in the local food scene and experience the flavors that have made Puerto Rico a culinary destination.
Enjoy having your own private guide with the best selection and recommendations of local dishes and indulge in the tastes of Puerto Rico on our foodie tour. Book your group today and discover the delicious flavors that await you on this culinary journey.